Survey for patients registered with the West Malling Group Practice
Introduction
In May 2021 over 3,000 patients registered with the West Malling Group Practice (WMGP) and living within a mile radius of The Hollies branch surgery were sent a letter to explain that The Hollies will be closing at the end of August 2021.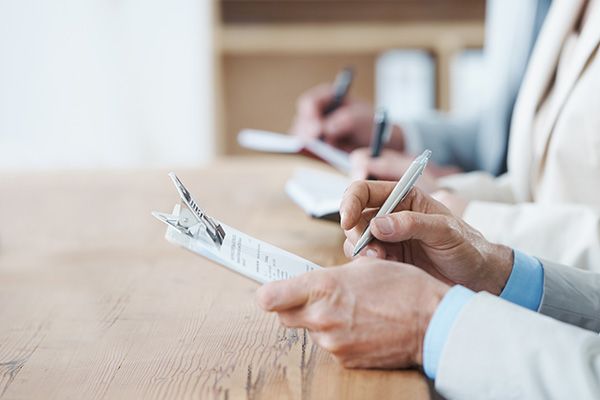 This was due to the landlord giving notice to the practice to vacate. Patients will instead be required to use the WMGP main building in Kings Hill and the branch surgery in Leybourne, Avicenna. All patients sent a letter were invited to take part in a survey either online or via telephone to give their feedback about how the change may affect them. The online survey link was also promoted on the practice's website and paper copies were available to pick up from reception. Over 400 patients completed a response to the survey which closed on the 18 July 2021.
To receive a full breakdown of the responses via email, please contact the practice.
Summary of responses
The main theme from the responses cited problems with the surgeries phone system and/or being able to book an appointment to see a GP face-to-face.
Appointments
50 people spoke about the difficulties they have when trying to secure an appointment, with many of them telling us there are not enough appointments made available in the first place. We heard residents have concerns about the amount of appointments available for a growing population when the practice closes down and services are moved to the Kings Hill location.
"It is still very difficult to get an appointment due to volume of calls/ limited receptionists. I feel that I need to manage my healthcare as the surgery do not seem to have time/ resources to do any proactive/ preventative care. This encourages me to wait till things become an emergency which is far from ideal."
"Would have liked to go to the GP more, but getting appointments is already so difficult. So instead of being ill for a few days you end up ill for weeks. Surely this is just going to make it worse."
"Owing to the huge expansion of Kings Hill it has made it almost impossible to get a GP appointment. The pre-booking that is supposedly available on the website very rarely shows any appointments."
"I only managed to get an appointment for myself by going through 111. Can never get through to the surgery."
"Just trying to talk to a doctor is impossible if it's not an emergency for that day. Then you have to wait two to three weeks for a call. So, although it's not a medical emergency, two to three weeks is far too long to wait."
Four people told us they felt the need to seek the services of a private GP.
"In desperation, I resorted to a private GP to give me the information I needed."
"It's easier for me to download an app and pay £20 to speak to a doctor about ailments, than it is to book an appointment at any of the surgeries."
Phone Line
Many people also spoke to us about their frustrations and difficulties with the current phone system; 40 people told us that they have problems getting through on the phone. Some patients told us that calling the practice is so stressful that they have stopped trying to get through and that their medical ailments are left to develop.
"I find it difficult to get through on the phone line. I understand the difficulties but going forward there needs to be another way to contact the GPs apart from the phone."
"The current phone system isn't fit for purpose. Repeatedly cut off after waiting in excess of half an hour on more than one occasion and then been told to call back. Difficult or near impossible to get through/book appointments. If you are unable to answer your phone call on the day, you have to start the whole process again."
"It can be very stressful and frustrating waiting to get through especially when you are feeling unwell."
"In the past year I have, for several reasons, needed to access the GP more often.  I have rarely got through on the telephone in less than 40 minutes.  Sometimes I've been given a number in the queue then been cut off when I've reached No. 3."
Face-to-face/phone consultations
We heard from 17 people who are keen to have face–to-face consultations resumed. 
"Older people find virtual consultations stressful and confusing and it is more important that they feel they can talk to a doctor or nurse face-to-face."
"Face-to-face appointments have been discouraged and in many cases practically banned by the practice."
"It would appear that the need for face-to-face GP appointments no longer takes priority, "virtual" consultations being the order of the day.  Online or telephone consultations will never live up to the traditional person-to-person hands-on examinations and can only be regarded as a poor substitute." 
"Whenever I have tried to book a face-to-face appointment with a GP, I have been told that these are not available."
"Not being able to talk face-to-face has certainly affected my confidence in the service WMGP provides."
Maintaining a local GP practice
Another key theme in the answers to this question was the need to have some kind of medical facility in the town. A total of 66 people spoke about their concerns and the "promises" that were made to keep a GP practice in West Malling. Other people told us that they were concerned about the increasing number of houses being built in the area and that a GP clinic should remain in the area to serve the growing population.
"The promise from the surgery was that a small surgery would be retained somewhere in West Malling but this seems to have been revoked."
"I am very disappointed that, having promised to keep a surgery in West Malling, you appear to have made no effort to find an alternative place.  It may have escaped your notice that the average population age in West Malling is far higher than that on Kings Hill and that there are a number of house-bound residents in West Malling who no longer get an annual visit from their GP and find it difficult to get even a telephone appointment."
"I feel sorry for patients in West Malling because Dr Swindlehurst promised the practice would retain a footprint in the High Street."
"We were promised that a surgery would remain in West Malling and bearing in mind all the new residential development proposed in the immediate vicinity, this is surely a necessity."
"This seems to have been moved despite reassurance from local MP that it would remain in the town. I would like to know how this agreement was reached."
"It seems a very short time since we were assured that WMGP would keep a presence in West Malling." 
New houses
"West Malling needs a local surgery In the town. With all the new development proposed for the area, there should be an expansion, rather than a contraction of medical facilities."
"With the increasing house numbers in the surrounding areas I am shocked to see that it is only really Kings Hill site being utilised."
"God only knows how the two practices will now cope, it seems like the stupidest thing to reduce the amount of practices we have in an area that only keeps expanding."
"I understand the reasons for the closure but it seems short sighted when demand is increasing with more housing developments in the area, provision is being cut."
Remaining in the area
"You have maintained a presence in the town for the 30+yrs we have lived here and the move to Kings Hill doesn't appear to have added more appointments or facilities so see little advantage for me as a patient."
"I strongly feel that the surgery should remain within the town for the people it was meant for. There are a lot of elderly people now in the town who will find it very difficult to use now it's not within the village."
"We have many elderly people living in West Malling, including nursing homes, assisted living estates like Neville Court and Old Parsonage Court and proposed housing for the elderly.   They need the services of a health centre which is easily accessible."
Answers also highlighted issues about transport, and the difficulties people will face travelling to a new surgery in a different location. A total of 62 people spoke about local residents who are unable to drive, the poor bus service to Kings Hill and the environmental impact of people now travelling to the new surgery.
Environment
"The Hollies was so convenient and walkable particularly when my husband was alive.  As I get older I find it takes longer to get to either of the other two surgeries and I have to use my car or get a cab thus adding to pollution."
"Even though I can travel to other sites myself it is much easier and better for the environment to be able to walk to a surgery in the town rather than drive to another site."
"Encouraging more of us to drive seems an unhealthy and retrograde step."
Unreliable bus service
"I'm fit and relatively healthy at 43, so walking is a reasonable option since I don't drive. However, the loss of a surgery in the town has an enormous impact upon the more elderly population, many of whom do not drive and may not be able to afford taxis. Bus services no longer run often enough to be a reasonable substitute." 
"West Malling town has a large elderly population as well as a fair number of low income families. These groups are now being expected to pay not insubstantial fares or find car access to Kings Hill. Even a fit walker will take at least 45 minutes to make the journey so it's close to two hours on main roads there and back. Hardly feasible for many patients without transport. The bus service is a joke."
"There are a large number of elderly people already living in the town who may not be able to easily access the surgeries at Kings Hill and Leybourne, either by car or public transport. Even if you can travel by bus, the existing services are poor and infrequent and not fit for purpose."
Ongoing problems with prescriptions and communications
In the survey, nine people spoke about the issues that they have with their repeat prescriptions and emergency medications.
"Repeat prescription! Continued difficulty. Left [my repeat prescription] in the drop box at the surgery two weeks before due date with blood pressure readings. Rang pharmacy after eight, nine, and 10 days. Rang surgery line. Advised to email the request in again and it would be processed. Still nothing. Eventually a kind soul at the end of the line processed request that day after my medication had run out."
We heard from six people who told us about the communication issues they have had with the surgery, including people who have not had a response to their e-consult form and one person who has a hearing impairment and cannot contact the surgery.
We heard from five people who told us that they would prefer to see the same healthcare professional.
Recommendations
Patients have told us about a number of issues regarding the closure of the Hollies branch surgery. The CCG primary care commissioning team and the WMPG practice management team should consider how the concerns expressed by local families can be mitigated.
Steps to include:
Reviewing previous patient engagement performed during the closure of Milverton and the commitment made by the practice to maintain a presence in West Malling

Considering alternative options for patients to access an appointment with a healthcare professional, particularly for those patients who are housebound or who may have difficulty travelling to the other two sites

An aim to increase the capacity of appointments across the remaining two sites in Kings Hill and Leybourne, Avicenna - Avicenna is currently a vaccination site at weekends

Review of phone system to ensure patient calls are answered within a timely manner

Communication with patients – make sure the outcome of this review summarises the survey results and explaining what has been done as a result of patient feedback is made available on the GP practice and CCG websites.
Published: Oct 18, 2021